Forests Special Issue "Modeling Nutrient, Carbon and Water Dynamics of Tropical Forests Under Global Environmental Changes: New Patterns and Mechanisms"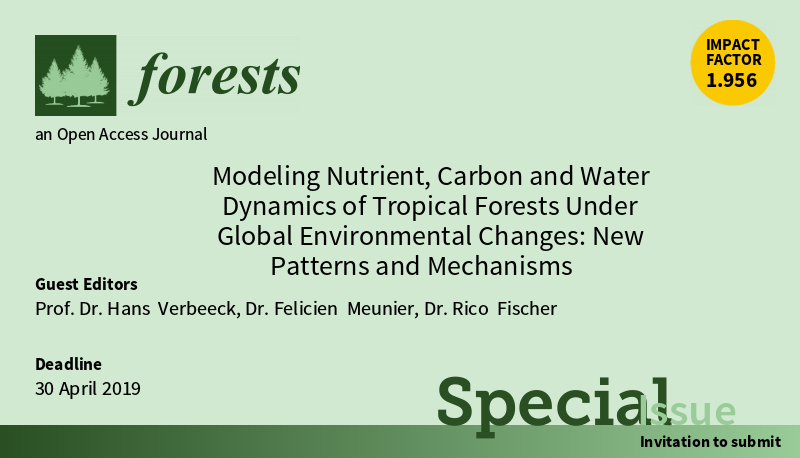 Dear Colleagues,
Tropical forests are an essential component of the Earth system, contributing largely to the global carbon, nutrient and water cycles. These ecosystems are currently confronted to important environmental changes including, but not limited to, CO2 fertilization, rainfall perturbations, global warming, increased disturbances and drought that are likely to perturb the vegetation demography and hence the role these ecosystems play in the the global cycles. While local forest observations and experiments may highlight the drivers of tropical forest changes, they suffer from several limitations that modeling could help overcome. First, short-term experiments might result in different functioning than long-term outcomes would reveal. Secondly, chronic changes (steadily increase of CO2 concentration for example) could generate different reactions as compared to step-changes in conditions. Finally, the effort required to collect data exponentially increases as combinations of scenarios are considered. Furthermore, nonlinear relationships power the scaling from plant organs and individuals to forest stands which makes functional trait observation particularly tedious as it has to span different spatial scales.
For these reasons, process-based vegetation models are important tools to unravel future spatio-temporal patterns of nutrient, water and carbon fluxes of Tropical forests. They indeed can be tested over long periods of time on a almost unlimited number of forcing data that might include smooth and abrupt changes. Actually, the only limit to the total amount of simulations is the imagination (and sometimes time or computational resources).
This special issue welcomes contributions related to novel insights on patterns, drivers and mechanisms governing future forest nutrient, carbon and water dynamics from local to global scales, as revealed by vegetation models tested under different climatic scenarios.
Prof. Dr. Hans Verbeeck
Dr. Felicien Meunier
Dr. Rico Fischer
http://www.mdpi.com/journal/forests/special_issues/model_tropical